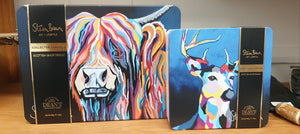 Steven Brown Shortbread Tins by Deans Shortbread
---
Deans shortbread encased in a Steven Brown Tin, a perfect gift for any occasion.
Dean's is a family run business, priding itself on using time honoured handcrafted baking methods, and is recognised as 'The Leading Premium Quality Scottish Shortbread'.
Steven Brown Art is the home of the iconic multi-coloured Highland Cow McCoos!