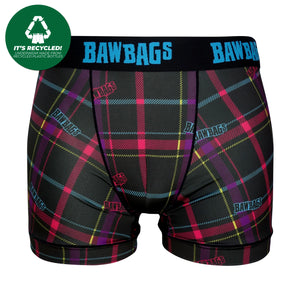 Bawbags
Techno Tartan Cool De Sacs by Bawbags
Regular price
Sale price
£15.00
Tax included.
Shipping
calculated at checkout.
---
Comfy, super-stylish and just a pinch of patriotism dashed in for good measure. That's what you'll be getting with our Techno Tartan boxers.
Made with our special Cool De Sacs materials they are an absolute game-changer. They offer you maximum stretch and comfort, even when you're out for a run or hitting the gym.
And let's be real, life really is too short for those grey, black, and white boxers that look rubbish and ride up every 5 minutes.
Get something that shows you have baws, offers a wee bit of pizzaz and proves that you're happy to stand out from the crowd.
You'll also be getting yourself some boxers that'll last ages and remain super comfy, and as a big added bonus, you're supporting some great causes by buying with us.
Bold; Just Like You
That's right, just like your bold self these boxers aren't afraid to show off, mixing the strobe-lighted techno world with ever stunning Scottish tartan.
Life is just too short not to get them! They look the part and allow you to mix and match your outfits right down to the base layer! And they also let you be bold and colourful in secret, even when your boss has you in some dull dress code or painstakingly bland uniform.
Keeping The Environment Intact
These boxers were once plastic bottles! Bawbags have found a way to turn plastic into super comfy, super stretch polyester, giving what would otherwise be waste a bright and brilliant second life.
We believe in sustainability, which is why we are looking to step up our game across the board, from our recycled Cool De Sacs to our Bawganic cotton range!
Stay Active With Cool De Sacs
Cool De Sacs boxers are ideal for the active lot out there, you won't be suffering any of the common pitfalls of shoddy underwear.
No sweaty dampness when you're running, no circulation cutting tightness when you get into the swing of that squat session, and no riding up just before you set off down that snowy slope.
Not with Bawbags. Our Cool De Sacs boxers are super absorbent with their bamboo baw pouch, stretchy, and have been designed with a cut that stops wedgies in their tracks.
Seal Of Bawproval
We believe our boxers are the best you'll find for activewear, and so do a whole host of athletes worldwide.
From professional skateboarders and mountain bikers to Olympic snowsports athletes, Bawbags have been tried, tested, and loved by some of the most skilled lads and lassies you'll ever meet.
---